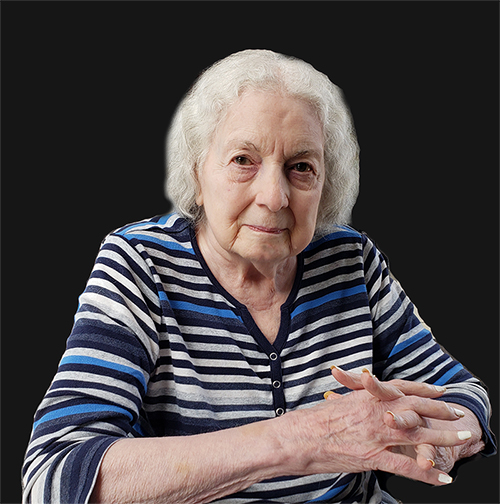 Alma Weisz was born in 1928 in Hicksville, Long Island, New York to Daniel and Lillian Cohen. She was the youngest of three siblings which included brother, Larry, and sister, Ruth.

She received her high school diploma in 1946 from James Madison High School with a 4.0 average. She was also distinguished as Secretary to The Teachers. Alma was part of the first graduating class after the four long years of World War II. At the time, she had plans to go on to Modeling School.

In 1947, she also became a graduate of the Dale Carnegie Institute of Effective Speaking.

On February 22, 1948, Alma married Warren H. Weisz in a ceremony at the St. George Hotel in Brooklyn, NY. Warren Harden Weisz had been a Captain, Artillery, USAR, and Captain AUS in the Army of The United States. He was Honorably Discharged in April 1953.

On May 23, 1951, Alma graduated from the New York School of Interior Decoration. She then began a position in sales at Maslow-Freen, Cabinet Crftsmen, Inc., and in 1952 started work at John Widdicomb Company, Inc., makers of fine furniture.

In 1953, Alma became a permanent contract member of John Stuart Inc., Fourth Avenue at 32nd Street. She worked in sales as a manufacturers' distributor of fine furniture. She was a member of local union 635.

Once her husband, Warren was discharged from the army, they began their life together moving to Highpoint apartments in Riverdale, NY. It was there, three years late that Alma gave birth to her only child, Steven Weisz in 1956. While living on the 10th floor at Highpoint, Alma some years later in the 60s rented a single apartment on the 7th floor which became her artist studio.

While not entirely known, it appears Alma began sketching and painting in 1945 but it may have been even earlier in life that she pursued her interest in art. A number of her earlier works have been lost but were captured in a series of 2.5″ x 3.5″ photos.

In 1964, she had the opportunity to socialize with Marc Chagall during his stay in New York City. It was that year that Chagall created a stained-glass window, entitled Peace, for the UN in honor of Dag Hammarskjöld, the UN's second secretary general who was killed in an airplane crash. They had been introduced by UN Secretary General, U Thant. In 1965, during a minor stay in the hospital, Alma received a personalized letter with a "Birds" sketch on Drake Hotel stationary from Chagall wishing her well.

In 1966, she studied with the notable Morris Davidson, an abstract painter, art administer, lecturer, teacher, and writer. She maintained correspondence with him during his Summer in Provincetown and later at his home in Piermont, NY.

In 1967, she began to study at The School of Artists in America. She studied painting and drawing under Jerry Okimoto and Leo Manso. She also studied with Norman Raeban from 1967-1968. Raeban belonged to the Ashcan School and his studio was on the 11th floor of Carnegie Hall. It was also at this time that she became heavily influenced by the works of Mark Rothko and especially his color field paintings.

Alma eventually decided to pursue her college education attending New York University's School of Continuing Education from 1970 to 1974 earning her Associate's Degree in the Arts with academic distinction. The final year of her study was marred by the critical illness of her husband.

Alma and Warren remained married until his death on June 17, 1974 from lung cancer, at Doctor's Hospital in New York. She never remarried.

Widowed, Alma returned to work in 1975 as an Assistant Showroom Manager at Habitat Incorporated, Intrex Incorporate, and Architectural Supplements Inc. She went on to work for Contract Furnishing Systems in 1979, becoming a Group Manager for them in 1987, and then in 1991, Vice President. She eventually accepted a position at Sterling Interiors Group in 1992 until their close in 1997. She eventually freelanced under her own company, Alma Weisz Interiors until retirement. Throughout her career in the world of corporate interior design and sales, she was often viewed as a maverick being one of the first women to enter a heavily male dominated field. She had too many prestigious clients to name but they included The New York Times as well as offices in the World Trade Center.

While she may have given up her own painting, she was a staunch supporter or the arts both attending and donating to a number of organizations in dance, music and theater in New York City. Prior to falling ill, she would venture in to the city on regular basis not only to attend live performances but to spend time with her favorite works or art in New York's museums.

At 80 years of age, Alma successfully battled ovarian cancer and has been in remission since. The surgery and subsequent chemotherapy left her with vascular dementia and progressive memory loss. Now at 91 and living under the care of her son, art continues to be at the foundation of her core. This site is a testament to her work.